Prince Amyn Aga Khan Exhibition at the Heritage Gallery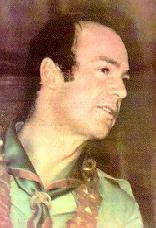 ---

Who named Prince Amyn?

She (Lady Aly Shah), did not see her great-grand children, Aly's two boys, Karim and Amyn, but she knew all about them and she chose both their names, the younger bearing that of her brother who died as a young man in the 1880's.

(Memoirs, pg.268)
---

On 26 January, 1989, Prince Amyn Mohammed, A Director of the Aga Khan Trust for Culture, opened the most important Exhibition of Islamic Calligraphy to be seen in London for many years.
---

As guest of honour at the ceremony held on the roof of the nearly completed Ismaili Centre in central London, Prince Amyn Mohammed said that the Centre has the "the difficult vocation of bridging East and West, of bringing together strong and brilliant cultures.

Quotes from His Speech on 13th May 1982.
---

From the Will of Imam Sultan Muhamad Shah
---

Speech delivered by His Highness Prince Amyn Aga Khan at the Opening of an exhibition on Islamic Calligraphy at the Zamana Gallery, London on January 26, 1989
---

Message to the H.S.H. Prince Aly S. Khan Garden Scouts Band of a souvenir marking the 50th Anniversary of the formation of the Band - 28 October 1983
---

Gala de Nouvel An
---
---

Back to Heritage Gallery