Speech by Princess Zarah Aga Khan




Partnership Walk - Houston Texas, USA
April 5, 1998
---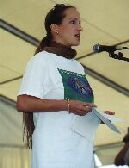 Good morning ladies and gentlemen, your Excellencies. I would like to thank the Congresswoman and the Mayor for being with us today, thank you very much. And our friends, Mrs. Sharon Bush who gave us a wonderful dinner last night, thank you. And thank you all for being here today and thank you for the contribution that you are making to our efforts in development and in women's development in particular.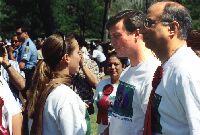 It is encouraging to see that so many people in Texas are interested in the development of women in the developing world but something tells me you are not all from Texas. I would like to assure you that the Aga Khan Development Network will make the best possible use of your contribution, thank you.
Now I am sure that you've all read all the literature that the Aga Khan Foundation has provided and you're experts in women's development, so I won't go on for long and I'll just raise a few important points.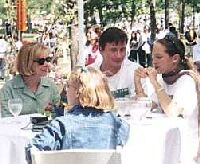 I've always been amazed that the women who endure the most adverse conditions, in this world, very seldom ask for help. This may be because they are isolated and are unaware of the resources which would be available to them. Though it may also be because the help which they need does not stem from pity or charity. Rather, it stems from a combination of constructive factors, such as education, skills acquisition, professional development and access to credit and markets.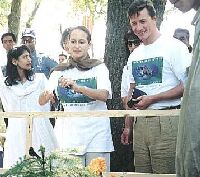 The Aga Khan Development Network has been working for many decades to provide education and other basic neccesities to women. Yet the contribution that women make to the economy is overlooked in many countries and it is often taboo for educated women to have a career.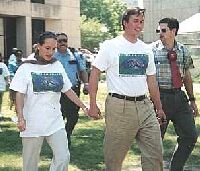 A society which fails to educate its women and which hampers their development, is ultimately wasting fifty percent of its most precious resource. A society whose women are educated is a dignified society and one to be proud of. The female contribution to the economy could also have an enormous impact if women were encouraged to achieve the full scope of their potential productivity.
Entrepreneurial activity provides income, income provides security, and when necessary, independence. Income is therefore a primary determinant, which enables a woman to protect herself and her family from poverty and even violence. These issues facing women are often echoed in the developed world and I am sure that most of us here today, know at least one woman who suffers from aggression and worse, from violence. Wherever they are, we must ask ourselves; "is this acceptable?"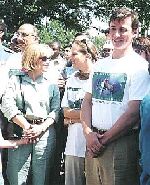 As individuals, we must focus ourselves our efforts on eliminating this problem. Every one of us can take part in this process by ensuring that the basic rights of man are also the basic rights of women.
When you walk today, give some thought to why, and for whom, you are walking. Many issues facing women span the globe and I hope that your participation today will give you some insight into these issues. Thank you for helping us to improve the lives of those women who can most benefit from the skills that we can teach them.
I would also like to express my thanks from myself and my husband, and our admiration, to all the volunteers who have made this what it is today, and who have prepared this walk in the most incredible way.
Princess Zahra
---
Back to Timeline 1998
---