Aga Khan IV - Timeline - 1957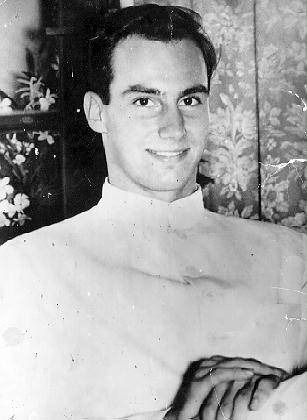 1957
APPOINTMENT OF THE 49TH IMAM OF THE SHIA IMAMI ISMAILI MUSLIMS: THE LAST TESTAMENT AND WILL OF THE 48TH IMAM SULTAN MOHAMMED SHAH;

EXTRACT FROM THE WILL: "..I APPOINT MY GRANDSON, THE SON OF MY SON ALY SOLOMONE KHAN TO SUCCEED TO THE TITLE OF AGA KHAN AND TO BE THE IMAM AND PIR OF ALL MY SHIA ISMAILIAN FOLLOWERS.." [More]

---

July 11, 1957: His Highness Prince Karim Al-Husayni Aga Khan became the 49th Imam of The Shia Ismaili Muslims.

July 13, 1957: For the first time as Imam, He granted audience to the representatives of Ismailis from various countries, at Villa Barkat, Veroix (near Geneva), Switzerland. (click here)

July 17-18, 1957: In Cairo and Aswan for the temporary burial of his grandfather, Hazrat Imam Sultan Muhammad Shah Aga Khan III.

July 26, 1957: First visit to London Jamat. Given title of "His Highness" by Her Majesty Queen Elizabeth II.

July, 1957: Queen Victoria had conferred the dignity of Highness on his grandfather. Elizabeth II did the same for the present Aga Khan.

August 1957 was the begining of the first long visit to followers.

August 4, 1957: Sunday; On his way to Karachi, Hazar Imam made a brief stop at Beirut Airport where the Lebanese Government gave him a welcome normally reserved for Heads of State. Some 600 Syrian and Lebanese Ismailis also were gathered at this auspicious occasion.

August 4, 1957: Visit to Karachi, Pakistan. In His speech, Hazar Imam said; "You all know that my grandfather was one of the founders of Pakistanů. This country is in my heart."

August 7, 1957: First Visit to Dacca.

August 10, 1957: Brief visit to Lebanon, Beirut. "First visit to His followers."

August 1957: Donated Aga Khan Gold Cup to the Karachi Race Club, to be competed for annually.

August 9, 1957: First visit to Bombay, India.

August 12, 1957: Landed at Nairobi, first visit to East African countries as Imam. During this tour Hazar Imam was awarded the "Brilliant Star of Zanzibar" by the Sultan of Zanzibar. (photo)

October 19, 1957: Takht Nashini speech and celebrations of the Intronisation of Hazar Imam at Dar es Salaam, Tanganyika.

October 22, 1957: Takht Nashini at Nairobi, Kenya.

October 25, 1957 Takht Nashini at Kampala, Uganda.

November 16, 1957: Became Patron-in-Chief of East African Muslim Welfare Society (Mombasa) and donated money to the Society.

November 25, 1957: Gave speech on "Harvard University and Studies of Middle East" at the Dar-es-Salaam Cultural Society.

December 13, 1957: First celebration of Imam-e-Zaman's birthday.

PHOTO ALBUM 1957
Mowlana Hazar Imam and Princess Tajuddaullah


Mowlana Hazar Imam, 1957


Mowlana Hazar Imam, 1957, East Africa


Mowlana Hazar Imam in Kampala, 1957


Mowlana Hazar Imam in Dar es Salaam, 1957


Masnadnashini, Nairobi, 1957


Mowlana Hazar Imam in Dar es Salaam, 1957


Mowlana Hazar Imam wearing the "jabbo", 1957


Mowlana Hazar Imam addressing the Ismaili Jamat, 1957


Mowlana Hazar Imam, 1957


His Highness studies a progress presented to Him at the plaque unveiling of the new Jamat Khana


Mowlana Hazar Imam smiling brightly, 1957


Prince Karim Aga Khan conversing with the Governor of Kenya, Sir Evelyn Baring, in Nairobi, 1957


Princess Tajudaullah, Mowlana Hazar Imam, Prince Alykhan and Sir Eboo Pirbhai, 1957


Mowlana Hazar Imam sitting in a throne crowned with a glorious Taj, 1957


Hazar Imam in Nairobi when the foundation stone for an Ismaili housing colony was laid


Prince Karim seen in conversation with the Prime Minister of India, Mr. Jawaharlal Nehru


Hazar Imam, 1957


Mowlana Hazar Imam taking a stroll with the Governor of Uganda, Sir Frederick Crawford (3rd from the right) at a garden party in Kampala in honour of the new Imam


Mowlana Hazar Imam in Kampala, surrounded by the Ismaili Youth Band, 1957


Mowlana Hazar Imam standing to attention as a parade marches past. On His right sits Mata Salamat, and on His left, His mother, Princess Joan Aly Khan, 1957


Mowlana Hazar Imam inspects a smart turn-out of Aga Khan Girl Guides, East Africa, 1957


Mowlana Hazar Imam stepping out of an East African Airways plane. Hazar Imam did more travelling by roads though, so He could visit the small towns where some of His followers live. East Africa, 1957


Mowlana Hazar Imam standing between two young boxers, one Asian and the other African, both Ismailis. Hazar Imam then said, "To me, this friendly contest reflected something of tremendous importance to our community. It reflected, first, the qualities of determination and endurance which are demanded by our faith."


Presentation of the Sword at Dar-es-Salaam, by Count Fatehali Dhala, President of the Ismailia Federal Council for East Africa


Alijah Najmudeen Kassam Dewji Chief Mukhi of Dar-es-Salaam and Alijah Pirbhai Haji Ismail Chief Kamadia present to His Highness, the richly embroidered Robe, Dar-es-Salaam


Count V.M. Nazerali presents Sheikh Hassa Bin Ameir formerly Assistant Kazi in Zanzibar, and a leading authority in Islam, to Hazar Imam, 1957


Mowlana Hazar Imam and Princess Joan, his mother, at the grand Darbar, Dar-es-Salaam, 1957


Arrival at Arusha, Vazier Virani, President of the Council, introduces the Provincial Commissioner to His Highness, 1957


Mowlana Hazar Imam (in the bottom right corner) watches a Phys. Ed. demonstration by the Ismaili youth, from afar, 1957


Guard of Honour by Aga Khan Boy Scouts and Girl Guides at the Nairobi Airport, 1957


His Highness visits the Ismailia Mixed Primary School Nairobi, escorted by the Principal Mrs. Glover, 1957


His Highness looks over the shoulder of a hard-working, young student at the Ismailia Mixed Primary School Nairobi, 1957


His Highness addresses the pupils of the Ismailia Mixed Primary School Nairobi. On His left is the Ismailia Education Administrator for Kenya, Vazier Madatali Alibhai Shariff and on His right Mr. D. Gregg, Deputy Director of Education Kenya, 1957


Escorted by the Kenya Administrator Vazier Madatali A. Shariff and the Principal Mrs. Olive, His highness visits the Ismailia School at Kisumu


His Highness visiting the Muslim Girls' School, Nairobi


While in Nairobi, Hazar Imam met with the Secretary of State for the Colonies. His Highness is pictured here with Mr. Lennox-Boyd, The Honorary Count Ebrahim Nathoo and Mr. M. Curtis, personal A.D.C. to His Highness.


His Highness prepares to lay the foundation stone of the Puwani African Muslim Mosque, Nairobi, 1957


Villa Barakat, Geneva, 1957


Kampala, 1957


Imam-e-zaman arriving at Karachi Jamat Khana to meet the followers. Girl guides salute.


Geneva July 11, 1957
Photograph of His Royal Highness the day He ascended the "Masnad" of Imamat.


"The Brilliant Star of Zanzibar"
Incidentally, title bestowed upon both Mowlana Sultan Mohammed Shah and Mowlana Hazar Imam when They were both at the age of 21.


Mowlana Hazar Imam
1957


Nina Dyer, Prince Alykhan, Prince Sadruddin, Mowlana Hazar Imam and Prince Amyn Mohammed


Mowlana Hazar Imam being congratulated by Prince Sadruddin when Hazar Imam succeeded Mowlana Sultan Mohammed Shah


Mowlana Hazar Imam with Ismaili Leaders, Villa Barakat, July 13, 1957 5707930f
Mowlana Hazar Imam, Prince Amyn Mohammed and Princess Tajudaullah at the memorial service for the Aga Khan's grandfather at the Woking Mosque, July 1957


Mowlana Hazar Imam and Prince Alykhan, 1957


Mowlana Hazar Imam with the Pakistan Government Representative at Beirut airport.


Mowlana Hazar Imam in Bombay, first auspicious visit


As Imam, or spiritual head, of the Ismaili Muslim community, H.H. the Aga Khan stands on the dais before the great gathering at His installation ceremony in Dar es Salaam, Tanganyika, East Africa


Outdoor billboard, Dar es Salaam, East Africa, October 1957


October 1957, Dar es Salaam, East Africa


October 1957, Dar es Salaam, East Africa


October 1957, Dar es Salaam, East Africa


Mowlana Hazar Imam having a quick word with His mother, Princess Tajudaullah, at a function in East Africa


Mowlana Hazar Imam photographed in a car, in between His mother, Princess Tajudaullah, and His father, Prince Alykhan


Mowlana Hazar Imam enjoying a meal in Nairobi, October, 1957


Hazar Imam standing on a glorious stage, amongst a vast crowd. East Africa, October 1957


Arrival at the Dar-es-Salaam Airport, October 17th, 1957. (L to R: The Governor of Tanganyika, Sir Edward Twining, Princess Joan Aly Khan, His Highness the Aga Khan, Lady Twining and Prince Aly Khan)


Mowlana Hazar Imam at the opening of a mosque in Kampala


Mowlana Hazar Imam at the Nairobi airport with his father and mother.


Arriving for Deedar
Takth Nashini


Mowlana Hazar Imam and Princess Tajudaullah at the London airport, October 1959


Mowlana Hazar Imam at the unveiling of a commemoration plaque, on November 9, 1957, at the new Jamat Khana in Nairobi

to Timeline 1958

Timeline Main Page