Sharjah | By Ashfaq Ahmed | 05/05/2002
http://www.gulf-news.com/Articles/news.asp?ArticleID=50013
Aga Khan University Hospital office opens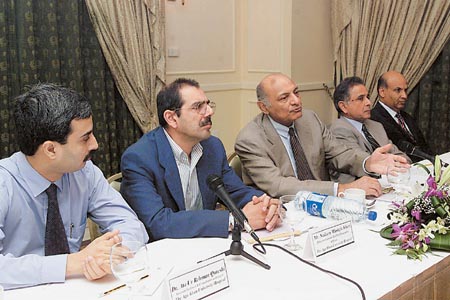 From Left to Right: Dr Ata Ur Rehman Qureshi, Nadeem Mustafa Khan, Dr Shamsh Kassim Lakha, Asif Fancy and Dr Shahid Sami during the press conference in Dubai yesterday. (c) Gulf News

The first international representative office of Aga Khan University Hospital in Pakistan (AKUH) was opened yesterday in Dubai to provide patients with an option of cost-effective quality treatment and to help students take up courses.

Sheikh Mohammed bin Saqr Al Qasimi, Assistant Undersecretary at the Ministry of Health and Director, Sharjah Medical District, inaugurated the office in the presence of officials from the Ministry of Health, Pakistani diplomats, prominent Pakistani community members and AKUH representatives.

Sheikh Mohammed appreciated the efforts of the AKUH for providing the opportunity for cost-effective healthcare options to the UAE population and assured his continued support.

"The AKUH representative offices has been established to provide convenience and easy accessibility to AKUH's high quality services to patients in the UAE," explained Dr Shamsh Kassim-Lakha, president.

The office will not only refer patients to AKUH and provide information about the facilities available at the hospital but will also assist patients in obtaining feedback from AKUS consultants on their medical reports, scheduling appointments, providing cost estimates for treatment and making transportation and lodging choices in Karachi.

"The main objective of the office is to provide affordable medical facilities for Pakistani and Asian expatriates working in the UAE, as well as to provide excellent healthcare options to UAE nationals, who may not wish to travel to the West for treatment," Dr Lakha added.

He said in the second phase, AKUH will set up two clinics, one each in Dubai and Abu Dhabi, where physicians and nurses from the AKUH will examine patients and provide them with treatment or refer them to AKUH.

"Our third phase plan, subject to demand, is to set up a full-fledged Aga Khan University Hospital to provide educational and health facilities to UAE people," he said, adding they were not here to make money because AKUH is a non-profit institute.

The Aga Khan University Hospital set up in 1983 is the principal teaching site of the Aga Khan University, Karachi, which is the first private international university in Pakistan.

The university is an academic centre for the Aga Khan Development Network, a group of development agencies, institutions and programmes that work primarily in the developing parts of Asia and Africa, mostly in Muslim dominated countries.

Nadeem Mustafa Khan, AKUH director general and chief executive, said: "As a teaching institution, AKUH is committed to providing the best possible options for disease diagnosis and team management of patient care that is comparable with the best medical centres in North America.

"The University Hospital provides high quality patient care covering a large spectrum of medical and surgical diagnosis and treatment such as open-heart surgery, hip replacement surgery, neurology, and oncology.

"The hospital's professional staff and facilities are among the best in the region. It has the distinction of being the first in Pakistan and among the first few teaching hospitals in the world to receive ISO-9002 certification for developing and maintaining consistent international standards of quality service."

He said the hospital provided healthcare to over 33,000 hospitalised patients and over 344,000 outpatients annually. "It also receives a large number of patient referrals every year from East Africa, Bangladesh and the Middle East," he added.

Earlier, addressing a press conference at Sheraton Deira Hotel, Dr Lakha dispelled the impression that AKUH was a very costly hospital.

"Around 74 per cent of our patients are from the lower-middle and lower class segments of society and we spend some $5 million from the Patient Welfare Scheme to treat such patients," he said, but clarified the hospital did not provide free treatment.

"We do charge every patient, whatever he can afford to pay, and the rest comes from the Patient Welfare Scheme fund," he explained.

He said the hospital has set up an Endowment Fund, the main income source of which is donations from well-off people. "The income generated from our endowment investment goes to the Patient Welfare Scheme," he added.

He said they are also in the process of setting up facilities in Afghanistan and Syria while they are already operating in East Africa and London.

"Although we have been coordinating with the UAE University in Al Ain and other government institutions, we decided to open our representative office on demand from the local health authorities and the people," he said.

He added the Dubai office will also provide information to students who want to continue their studies at the Aga Khan University in Karachi, which offers various courses in the faculty of health sciences and educational development.
---
(c) Al Nisr Publishing LLC - Gulf News Online
---