http://www.dawn.com/2002/03/12/top7.htm
Dawwn.com 12 March 2002 Tuesday
Investors in tourism to get incentives: President
By Our Staff Reporter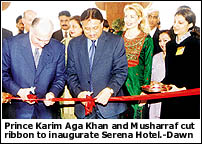 ISLAMABAD, March 11: President Gen Pervez Musharraf has said the government is offering various incentives for making investment in the tourism and hotel industry. Inaugurating Islamabad Serena Hotel here on Monday, he said the tourism needed to be fully developed to attract local and foreign investment in Pakistan.
Characterizing the importance of the hotel, the president said it was not a matter of creating facilities for accommodation, catering and leisure alone, but that project added to the existing infrastructure that strengthened the economy, also in terms of employment and income generation.
He complemented the Aga Khan Fund for Economic Development Network (AKFED) and its subsidiary, the Tourism Promotion Services, for making a very valuable contribution to private investment and employment opportunities in Pakistan.
The hotel project, Mr Musharraf said, was indeed a symbol of trust and confidence in the capital city. He said: "I am happy to learn that Pakistani material has been used in the building of the hotel".
Speaking on the occasion, Prince Karim Aga Khan said the tourism was a different industry which easily shied away when it perceived threats to security, to health, or from inequitable business practices.
Noting that Islamabad offered a rather different array of attractions in comparison to some of its immediate neighbours, he mentioned that Pakistan had considerable potential, not only in its wealth of natural settings, but also in cultural wealth of another type.
Referring to interest in ethnology of the northern areas, Aga Khan said these were of considerable fascination and originality to foreigners.
---