People's princess
The Hindu, Saturday, May 19, 2005
---
"When I landed here, it was like coming home... it's the air," says Princess Salimah Aga Khan to SHONALI MUTHALALY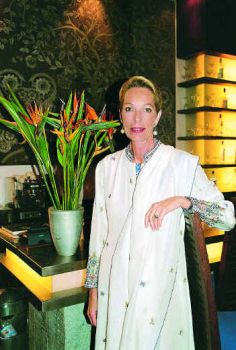 SHE CARRIES herself like a queen, behaves like a princess, looks like a model and giggles like a schoolgirl.

Princess Salimah Aga Khan is the former wife of Prince Karim Aga Khan IV, the spiritual leader of more than fifteen million Shia Imami Ismaili Muslims and reportedly a "billionaire globe-trotting owner of 600 racehorses, an estate in Paris, home in Geneva, two planes and a helicopter for locations with rough landings," according to countless news reports.

Princess Salimah, however, gives `regal' a whole new meaning. Forget the Princess-and-the-Pea-type royalty. Here is a real-life princess who rides horses, loves children and wishes she could save the world. Oh, and if she could get a couple of wrinkles obliterated while she's at it, that would be nice too.

"Wrinkles, wrinkles, wrinkles," she sighs, critically peering at her gorgeous, and still-astonishingly young face, in an imposing mirror that overlooks the bar at Le Dupleix in Pondicherry. "I can't bear it," she adds, before laughing, "Well, I'm 65 years old after all. A mother and a granny!"

Born in Delhi, the princess began life as an "army brat" called Sally Crocker-Poole. "My dad was in the Indian Cavalry, so we travelled about a lot. I loved it... but then, I knew nothing else."

She left India when she was seven years old, with nothing but a rudimentary knowledge of Hindi to remind her of her Indian past. "I forgot it all," she says, wide eyed with dismay, "But, I used to be able to speak it, and I think, if I stay on for a bit, I'll begin to remember."

And remember, she does.

Home-coming

"When I landed here, it was like coming home... it's the air," she says, taking deep, dramatic breaths as she finds herself a seat in a corner of Le Dupleix's courtyard restaurant. "I love it. I think your childhood always stays with you. And I was so blessed in mine."

Which is why Princess Salimah — who changed her name when she married the Aga Khan, and kept her new name and title when she was divorced, three children and twenty-five years later — is so passionate about the SOS Children's Villages, a scheme that provides homes for orphaned children.






The network, which has villages across the globe, works on the premise that all children need families. So, every village has houses with a mother and her adopted children. Bonds are strong, and the children grow up with a feeling of belonging.

"The best thing about them, is that they never separate siblings," says Princess Salimah. "Very often, the cute baby is taken and his sister left behind. Or girls are sent to one place and boys to another."

Princess Salimah, who is SOS-Kinderdorf International Ambassador for Children, was, in fact, in Pondicherry to lay the foundation stone for SOS Children's Villages' permanent housing project for tsunami-affected families in the village of Pudukuppam.

"Children have no politics," she says. "They're just knee high." A member of the organisation agrees heartily at this point, saying, "All of us think of the world as three feet high."

However, interest in the Princess' work has not always been able to displace curiosity about her past, resulting in a recap of the whole Aga Khan saga with every story written on her. "I don't think the past matters," she says, seriously. "Of course, your past is your past. You can't erase it. But an awful lot of people live in the past... I look towards the future."

2005, The Hindu
---