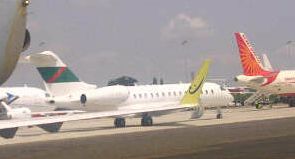 2011, July 09:

H.H. The Aga Khan or one of his representative

attended in Juba to the ceremony of signing of the New Constitution of South Sudan which was held in the presence of international Heads of States and dignitaries. Photo: The Aga Khan's plane at the Juba Airport.

Saturday's independence ceremony was held at the mausoleum of the late rebel leader John Garang, who died just months after signing the peace deal with Mr Bashir that ended Africa's longest-running conflict.

Salva Kiir took the oath as president.